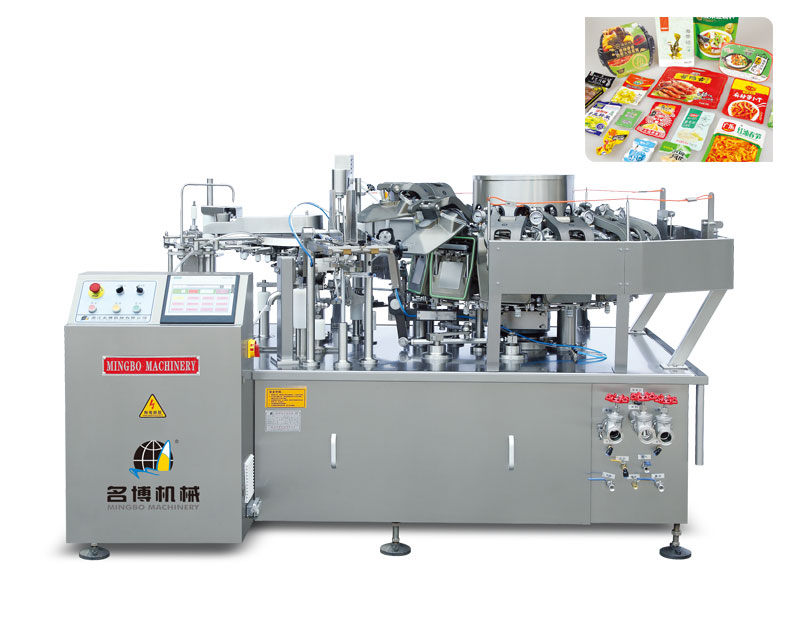 Applicable types
The device is manufactured by the company of new automatic vacuum packaging machine is widely used mustard, sauerkraut, pickled shredded bamboo shoots, mushroom, radish, seaweed, mushroom, konjac and other types of pickles and meat packaging. This product is a true automatic vacuum packaging machine, to achieve the pre-made bags to the bag, measuring, filling, vacuum, sealing and other processes to achieve a fully automated production; production process equipment to avoid direct contact with the staff again and the material save a lot of labor, optimization bad environment, eliminate pollution areas, improve production efficiency, significantly reduce costs, resulting in the market has won the praise of Customers.1. Automatic vacuum packaging machine separated by two rotary body composition (filling and vacuum systems).
2. Easy to operate: PLC touch screen control, man-machine interface operating system, intuitive and easy to operate.
3. Easy to adjust: real fully automated. Just part of the required input parameters from the man-machine interface, all parts of the packaging
machine can be adjusted to the desired command.
4. The high degree of automation: up automatic vacuum requirements, weighing and packaging process to achieve unmanned. If there is fault alarm occurs.
5. Perfect prevention systems, may only detect whether it opens the bag, and opening bags is complete, in the case of inappropriate feeding does not feed heat sealing. No wasting bags and material, it costs savings.
6. The device complies with hygienic standards of food processing machinery, equipment and material contact parts made of 304 stainless steel or other materials with food hygienic requirements processing, and ensure food hygiene and safety, in line with GMP standards.
7. The use of prefabricated bags, high sealing quality, improve product quality.
8. Suitable packaging materials range: Mat
Work process
1. feed bags, 2. reserve, 3. open bags, 4. fall material, 5. add liquid, 6. clean bags, 7. forming, 8. reserve, 9. pass bags, 10. reserve.
1. receive bags, 2. close the lid, 3. vacuum one time, 4. vacuum twice, 5. vacuum three times, 6. vacuum four times, 7. vacuum five times,8. seal, 9. seal&cool, 10. deflate, 11. open the lid and output, 12. return.


Main technical parameter
| | |
| --- | --- |
| Model | MB10ZK12-130G |
| Bags Specifications | W:70-130mm L:80-210mm |
| Bag Type | Stand-up pouches, handbags, 4-side sealing bags, 3-side sealing bags, paper bags, compound bags, etc. |
| Filling range | 10-150g |
| Packing speed | 60-90bags/min (packaging speed is related to materials) |
| Weight | 3000kg |
| Host power | 4KW(not including vacuum pump) |
| Drive power | 3-phase 5-wire system 380V 50HZ |
| Dimensions | 2300×1800×1500mm(without elevator) |
| Air consumption | ≥0.4m³ /min( compressed air provided by the user) |
| Cooling Water | Cooling water: 15℃-20℃、3升/分 3liters/min (recommended with cooler) |